Welcome to First Baptist Church Wentzville
We hope that as you consider visiting with us, you'll see our desire to Love God and Love People. Keep reading and investigating to prepare for your first Sunday experience at FBCW!

Sunday Schedule
Adult Sunday School - 8:00am
Small group opportunities for adults with no childcare needs.
Worship & Sunday School - 9:30am
Worship and small group opportunities for children, youth, and adults.
Worship, Children's Church & Sunday School - 11:00am
Worship opportunities for children and general audiences and small group opportunities for children, youth and adults.
Plan your Visit
Visiting a new place can be uncomfortable. We realize that and want you to be well prepared before stepping foot on our campus. We hope the links below help you arrive feeling the fullness of God's love and our love of people.
What To Expect
Sunday's For Kids
Sunday School Groups
We have worship services on Sunday mornings at 9:30 and 11:00am with a mix of contemporary and traditional music, followed by a relevant, biblically sound message from the Pastor. Both worship services have the same music and sermon. Most of our families with children and youth prefer a 9:30 Sunday School and an 11:00am Worship schedule.
The Sermon
Our Pastor may use props, sing, or make you laugh; just expect anything as the Pastor guides us to a better understanding of God's Word. He doesn't stand behind a pulpit, so expect him to move about the stage while preaching. He typically preaches out of the NKJV or ESV Bible. He's never shy about tackling hard issues that God speaks clearly about even if they're not popular.
The Music
The best descriptor of our worship music style is a blend of traditional and contemporary. You'll regularly see us use a choir, a band featuring a variety of instruments (guitars, piano, drums, etc.), solos and other ways to express our worship in song. Here are some songs that represent well the types of music we use in worship:
How to Dress?
You'll see people dressed in all kinds of ways. Even from the stage, it's not out of the ordinary for you to see someone in a suit or in jeans. The church as a whole has a similar variety; come in your tennis shoes or your shined dress shoes, just come with a heart of worship!
Where to Park?
When you arrive on our property, you'll notice a drive through canopied entrance. That entrance has visitor parking located right in front of it. If you're handicapped, we have spots available to you nearest our North entrance next to a small canvas canopied entrance and also near our south entrance closest to Parr St.
Welcome Center

Once you've made it to our property and are parked, where do you go next? From either of the canopied entrances you're close to our Worship Center. Right next to our drive through canopied entrance you'll find our Welcome Center where volunteers will be glad to help you find the Worship Center, a Sunday School class for you and your children, or answer any other questions you may have.
Children's Sunday School

From birth through 5th grade, we have a class for your child where they can begin or continue their journey towards knowing and following Jesus. Classes are divided by age/grade. When you arrive, visit our Welcome Center and they'll be glad to help you get your child to the right class.
Children's Church
For children in PreK through 1st grade, Children's Church exists to provide them an age appropriate worship experience. Children's Church is offered at 11am.
Kids Worship
For children in 2nd-5th grade, Kids Worship exists to provide the older elementary kids with an exciting and age appropriate way to learn to worship God. Kids Worship is offered at 11am.
Safety
We value the safety of your children so we start by running a background check on any adult working with your child. These background checks are renewed approximately every 2 years. We have full-time teachers in almost all of our classes so your children get to see a familiar smile each week and hear from a consistent teacher. Let us know about your child's allergies as we always try to accommodate the growing needs of children with allergies.
Check-in
As an added layer of protection for your child, we have an electronic check-in system. On your first visit you'll complete a visitor form so you can be added to the system. You'll receive temporary labels to ensure that your child is released to whoever you give the matching label to. Each week after that you'll visit the check-in station where the printer will print your labels, one for you and one for your child.
To Learn More Click Below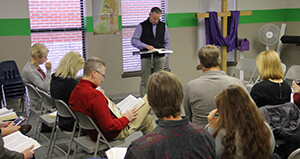 Adult Sunday School is a great way to connect with a smaller group of people. It's easy to get lost and feel disconnected in a large worship gathering, so we encourage you to find a small group Sunday School where you can join in the mission to reach people for Christ, grow in understanding of God's Word, and minister to others.
Schedule
Classes are offered on Sunday mornings at 8, 9:30, and 11am. There are also limited opportunities that exist outside Sunday morning for small groups. Please visit the Welcome Center when you arrive and they'll be glad to help you find a class. If you'd like to pick one out yourself before visiting, you can visit our Sunday School Finder to find a class.